2018 Ed Laverty Fall Classic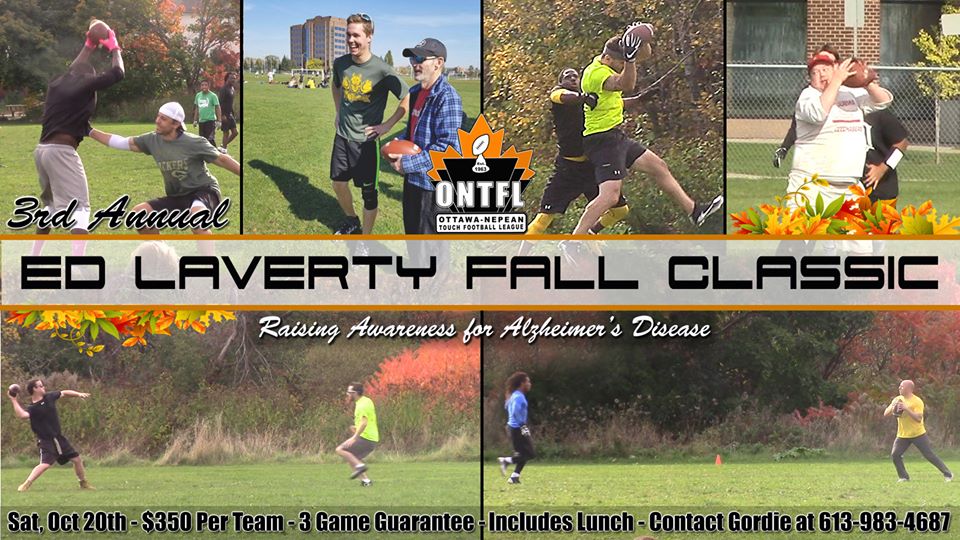 The 3rd Annual Ed Laverty Fall Classic (not to be confused with our coed classic Oct 13th) is around the corner (Sat Oct 20th). Come close the outdoor season off with us as we play the game that Ed helped build, while raising awareness for Alzheimer's disease.
It brings tears to my eyes, but great joy to see my dad in the posted graphic from a picture taken last year. This was his last public outing before he passed on to the great football field in the sky. It's fitting that it was taken at the tournament named after him. What a bonus that his picture was taken with the "Fall Classic Kid" Jesse Cayen, who somehow has made every promo of this tournament since I took over.
For those who don't know, my dad passed away peacefully at home last year, after a long bout with Alzheimer's. It's a terrible disease that affects too many families. Thankfully there are some wonderful organizations out there, and we'd like to once again shine a spotlight on the Alzheimer's Society of Ottawa & Renfrew Country.